Darwinex Pro:
Cheaper, faster and more flexible than raising a traditional hedge-fund
Grow Assets under Management
Darwinex Pro is a Hedge Fund as a Service (HFaaS) for professionals to attract investment with their brand, leveraging our platform.

The service builds on Darwinex execution, track-record verification, seed capital and cap-intro programmes. Our team supports investors.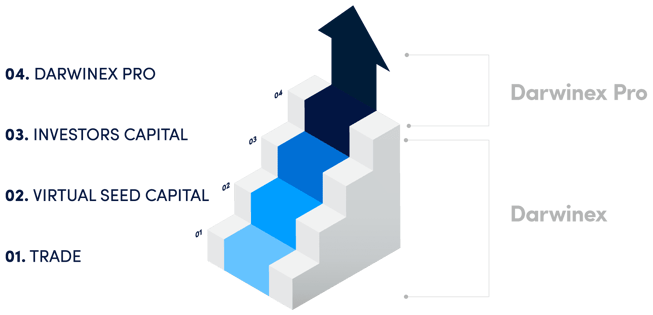 No external hurdles.
AuM is up to you
· Fastest Time to Market
Darwinex Pro builds on a Darwinex account - and it's turnkey. One/two months from application to market.
· On your Terms
Introduce investors to your brand, without competition from other Darwinex strategies.
· Minimal & Variable Cost Basis
Beating the market is hard enough as it is. No need for unnecessary stress.
· You Trade and Introduce
That's it. Darwinex Pro includes marketing materials, investor support, regulatory compliance, back-office chores and more.
Scope
Regulatory cover to introduce investors.

Risk management at arm's length.

Professional marketing materials.

Personalised investor risk and fee schedules.

Automated back-office and fee collection.

VIP support for you and for investors.
Fee Structure
One-time set-up fee of 10,000 (£/$/€) + VAT paid upfront (includes all services described above), plus

AuM based fee subject to 5,000 (£/$/€) + VAT yearly minimum.
It's your Turn
Get in touch to find out more
FAQ
01.
What pre-requisites do you require to provide the service?
We accept applications at our discretion, considering:
Strategy quality.

Applicant fitness and propriety.

Track record raising / Business potential.
02.
I am interested, how's the application and approval process?
It all starts by filling out the above form. The process involves:
An initial screening meeting for us to meet you and for you to get a first impression of the offering. The goal is to quickly establish if there's a mutual fit.

You completing the Darwinex Pro application form. This covers information about your experience, strategies, business plan and compliance track-record.

We may want to test your commercial skills.

Due diligence on your strategy or strategies to assess quality.

Compliance and background due diligence.
03.
What is the minimum amount for opening an investor account?
Investor tickets are 25,000 (£/$/€) and upward.
04.
Do I need to be regulated?
Not in your own right. The service includes regulatory cover to introduce investors to us.
To this end, we will appoint you as our representative in the UK or the EEA - which will allow you to effect introductions and distribute non-real time financial promotions.
You will sign a contract with us which limits the scope of the regulatory cover and contains provisions to enforce regulatory compliance
If you have any other questions or want to know further information, you can read more here or get in touch with us.